Smoothed Moving Average Strategy
Smoothed Moving Average Strategy
Author:
ChaoZhang
, Date: 2023-11-06 10:29:24
Tags:
---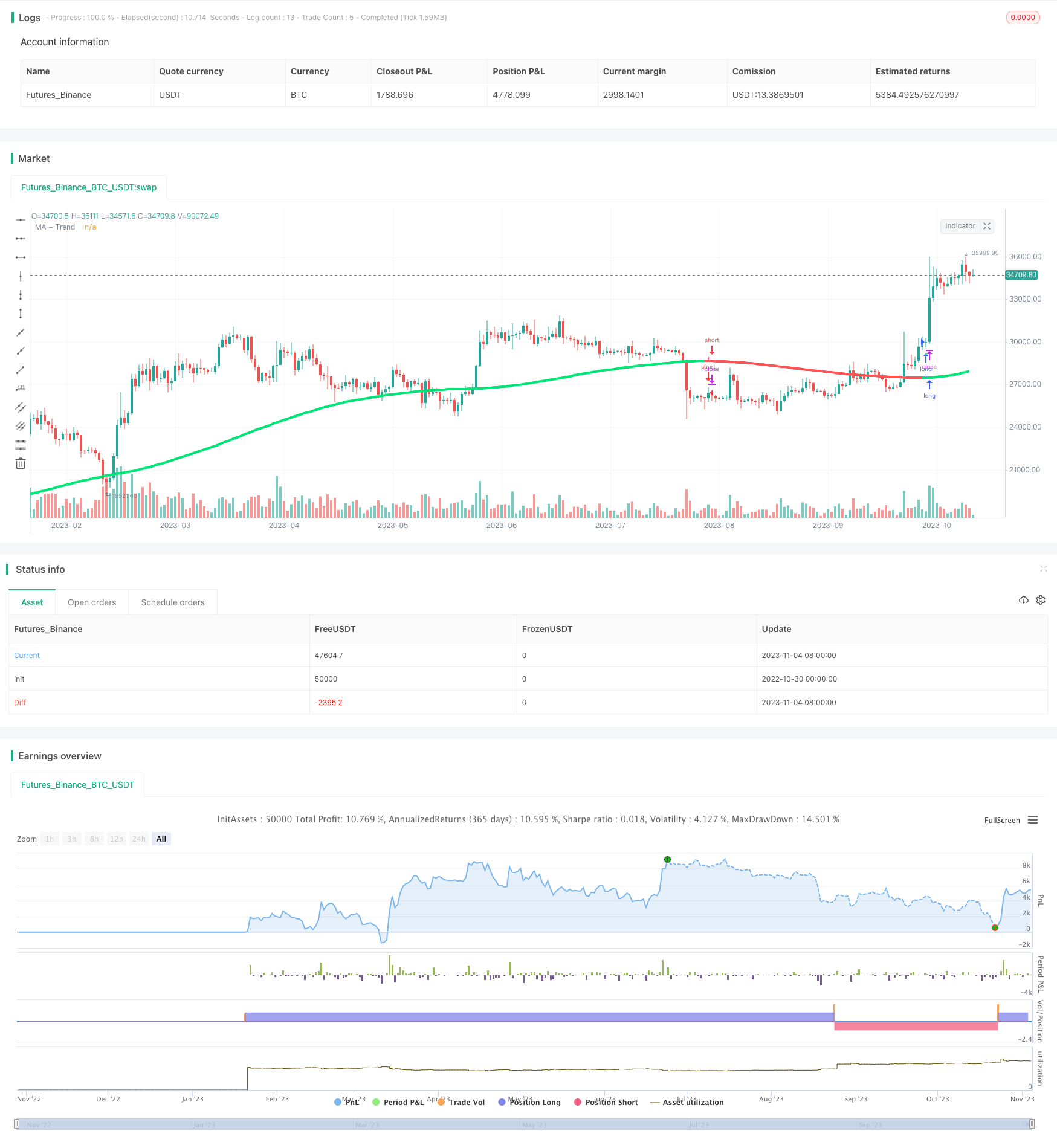 Overview
This strategy combines multiple moving averages to implement a simple trend following strategy. It also has the functionality of filtering out noise.
Strategy Logic
The strategy first smoothes the closing price, with the option of using Heiken Ashi closing price. It then calls the smoothMA function to overlay multiple smoothed moving averages. The smoothMA function first calls the variant function, which can generate various types of moving averages like SMA, EMA, DEMA etc. After variant function generates the specified moving average, smoothMA recursively calls variant multiple times to overlay the smoothing. This results in a moving average with high level of smoothness. It generates buy signals when the smoothed MA goes up and sell signals when it goes down.
Advantage Analysis
Multiple overlay of moving averages can effectively filter market noise and identify trends.
Supports various moving average types like SMA, EMA, DEMA etc, allows flexible combinations.
Heiken Ashi technique filters out false breakouts.
Simple and easy to implement.
Customizable MA length, type and smoothing times allows optimization for different products.
Risk Analysis
Multiple smoothing may cause lag and miss early trend changes.
Simple MA system struggles to profit in ranging markets.
Ignores transaction costs which erodes profitability in actual trading.
No stop loss in place, risks enlarged losses.
Consider combining other indicators like MACD, KDJ to improve signal accuracy. Optimize MA parameters to reduce lag. Use reasonable stop loss to control single trade loss. Also control trade frequency to minimize transaction costs.
Optimization Directions
Test different MA lengths and types for best combination.
Add other technical indicators for more systematic entry and exit rules.
Set trading session to avoid influence from major events.
Adjust parameters based on product characteristics.
Set stop loss and take profit to control risks.
Summary
The strategy follows trends via multi-overlay of moving averages, effectively filtering market noise. The advantages are simplicity and flexibility. But relying solely on MAs has limited profitability. Consider combining with other indicators, managing risks and optimizing parameters to improve efficiency.
---
/*backtest
start: 2022-10-30 00:00:00
end: 2023-11-05 00:00:00
period: 1d
basePeriod: 1h
exchanges: [{"eid":"Futures_Binance","currency":"BTC_USDT"}]
*/

//@version=4
// Copyright (c) 2007-present Jurik Research and Consulting. All rights reserved.
// Copyright (c) 2018-present, Alex Orekhov (everget)
// Thanks to everget for code for more advanced moving averages
// Smooth Moving Average [STRATEGY] @PuppyTherapy script may be freely distributed under the MIT license.
strategy( title="Smooth Moving Average [STRATEGY] @PuppyTherapy", overlay=true )

// ---- CONSTANTS ----
lsmaOffset = 1
almaOffset = 0.85
almaSigma  = 6
phase = 2
power = 2

// ---- GLOBAL FUNCTIONS ----
kama(src, len)=>
    xvnoise = abs(src - src[1])
    nfastend = 0.666
    nslowend = 0.0645
    nsignal = abs(src - src[len])
    nnoise = sum(xvnoise, len)
    nefratio = iff(nnoise != 0, nsignal / nnoise, 0)
    nsmooth = pow(nefratio * (nfastend - nslowend) + nslowend, 2)
    nAMA = 0.0
    nAMA := nz(nAMA[1]) + nsmooth * (src - nz(nAMA[1]))

t3(src, len)=>
    xe1_1 = ema(src,    len)
    xe2_1 = ema(xe1_1,  len)
    xe3_1 = ema(xe2_1,  len)
    xe4_1 = ema(xe3_1,  len)
    xe5_1 = ema(xe4_1,  len)
    xe6_1 = ema(xe5_1,  len)
    b_1 = 0.7
    c1_1 = -b_1*b_1*b_1
    c2_1 = 3*b_1*b_1+3*b_1*b_1*b_1
    c3_1 = -6*b_1*b_1-3*b_1-3*b_1*b_1*b_1
    c4_1 = 1+3*b_1+b_1*b_1*b_1+3*b_1*b_1
    nT3Average_1 = c1_1 * xe6_1 + c2_1 * xe5_1 + c3_1 * xe4_1 + c4_1 * xe3_1
    
// The general form of the weights of the (2m + 1)-term Henderson Weighted Moving Average
getWeight(m, j) =>
    numerator = 315 * (pow(m + 1, 2) - pow(j, 2)) * (pow(m + 2, 2) - pow(j, 2)) * (pow(m + 3, 2) - pow(j, 2)) * (3 * pow(m + 2, 2) - 11 * pow(j, 2) - 16)
    denominator = 8 * (m + 2) * (pow(m + 2, 2) - 1) * (4 * pow(m + 2, 2) - 1) * (4 * pow(m + 2, 2) - 9) * (4 * pow(m + 2, 2) - 25)

    denominator != 0
         ? numerator / denominator
         : 0

hwma(src, termsNumber) =>
    sum = 0.0
    weightSum = 0.0
    
    termMult = (termsNumber - 1) / 2

    for i = 0 to termsNumber - 1
        weight = getWeight(termMult, i - termMult)
        sum := sum + nz(src[i]) * weight
        weightSum := weightSum + weight

    sum / weightSum

get_jurik(length, phase, power, src)=>
    phaseRatio = phase < -100 ? 0.5 : phase > 100 ? 2.5 : phase / 100 + 1.5
    beta = 0.45 * (length - 1) / (0.45 * (length - 1) + 2)
    alpha = pow(beta, power)
    jma = 0.0
    e0 = 0.0
    e0 := (1 - alpha) * src + alpha * nz(e0[1])
    e1 = 0.0
    e1 := (src - e0) * (1 - beta) + beta * nz(e1[1])
    e2 = 0.0
    e2 := (e0 + phaseRatio * e1 - nz(jma[1])) * pow(1 - alpha, 2) + pow(alpha, 2) * nz(e2[1])
    jma := e2 + nz(jma[1])

variant(src, type, len ) =>
    v1 = sma(src, len)                                                  // Simple
    v2 = ema(src, len)                                                  // Exponential
    v3 = 2 * v2 - ema(v2, len)                                          // Double Exponential
    v4 = 3 * (v2 - ema(v2, len)) + ema(ema(v2, len), len)               // Triple Exponential
    v5 = wma(src, len)                                                  // Weighted
    v6 = vwma(src, len)                                                 // Volume Weighted
    v7 = na(v5[1]) ? sma(src, len) : (v5[1] * (len - 1) + src) / len    // Smoothed
    v8 = wma(2 * wma(src, len / 2) - wma(src, len), round(sqrt(len)))   // Hull
    v9 = linreg(src, len, lsmaOffset)                                   // Least Squares
    v10 = alma(src, len, almaOffset, almaSigma)                         // Arnaud Legoux
    v11 = kama(src, len)                                                // KAMA
    ema1 = ema(src, len)
    ema2 = ema(ema1, len)
    v13 = t3(src, len)                                                  // T3
    v14 = ema1+(ema1-ema2)                                              // Zero Lag Exponential
    v15 = hwma(src, len)                                                // Henderson Moving average thanks to  @everget
    ahma = 0.0
    ahma := nz(ahma[1]) + (src - (nz(ahma[1]) + nz(ahma[len])) / 2) / len //Ahrens Moving Average 
    v16 = ahma
    v17 = get_jurik( len, phase, power, src) 
    type=="EMA"?v2 : type=="DEMA"?v3 : type=="TEMA"?v4 : type=="WMA"?v5 : type=="VWMA"?v6 :
     type=="SMMA"?v7 : type=="Hull"?v8 : type=="LSMA"?v9 : type=="ALMA"?v10 : type=="KAMA"?v11 :
     type=="T3"?v13 : type=="ZEMA"?v14 : type=="HWMA"?v15 : type=="AHMA"?v16 : type=="JURIK"?v17 : v1

smoothMA(c, maLoop, type, len) =>
	ma_c = 0.0
	if maLoop == 1
		ma_c := variant(c, type, len)
	if maLoop == 2
		ma_c := variant(variant(c ,type, len),type, len)
	if maLoop == 3
		ma_c := variant(variant(variant(c ,type, len),type, len),type, len)
	if maLoop == 4
		ma_c := variant(variant(variant(variant(c ,type, len),type, len),type, len),type, len)
	if maLoop == 5
		ma_c := variant(variant(variant(variant(variant(c ,type, len),type, len),type, len),type, len),type, len)
	ma_c

// Smoothing HA Function
smoothHA( o, h, l, c ) =>
    hao = 0.0
    hac = ( o + h + l + c ) / 4
    hao := na(hao[1])?(o + c / 2 ):(hao[1] + hac[1])/2
    hah = max(h, max(hao, hac))
    hal = min(l, min(hao, hac))
	[hao, hah, hal, hac]

// ---- Main Selection ----
haSmooth   = input(false, title=" Use HA as source ? " )
length     = input(60, title=" MA1 Length", minval=1, maxval=1000)
maLoop     = input(2, title=" Nr. of MA1 Smoothings ", minval=1, maxval=5)
type       = input("EMA", title="MA Type", options=["SMA", "EMA", "DEMA", "TEMA", "WMA", "VWMA", "SMMA", "Hull", "LSMA", "ALMA", "KAMA", "ZEMA", "HWMA", "AHMA", "JURIK", "T3"])

// ---- BODY SCRIPT ----
[ ha_open, ha_high, ha_low, ha_close ] = smoothHA(open, high, low, close)

_close_ma = haSmooth ? ha_close : close

_close_smoothed_ma = smoothMA( _close_ma, maLoop, type, length)

maColor = _close_smoothed_ma > _close_smoothed_ma[1] ? color.lime : color.red
plot(_close_smoothed_ma, title= "MA - Trend",  color=maColor, transp=85, linewidth = 4)

long     = _close_smoothed_ma > _close_smoothed_ma[1] and _close_smoothed_ma[1] < _close_smoothed_ma[2]
short    = _close_smoothed_ma < _close_smoothed_ma[1] and _close_smoothed_ma[1] > _close_smoothed_ma[2]

plotshape( short , title="Short", color=color.red,  transp=80, style=shape.triangledown, location=location.abovebar, size=size.small)
plotshape( long ,  title="Long",  color=color.lime, transp=80, style=shape.triangleup,   location=location.belowbar, size=size.small)

//* Backtesting Period Selector | Component *//
//* Source: https://www.tradingview.com/script/eCC1cvxQ-Backtesting-Period-Selector-Component *//
testStartYear   = input(2018, "Backtest Start Year",minval=1980)
testStartMonth  = input(1, "Backtest Start Month",minval=1,maxval=12)
testStartDay    = input(1, "Backtest Start Day",minval=1,maxval=31)
testPeriodStart = timestamp(testStartYear,testStartMonth,testStartDay,0,0)
testStopYear    = 9999 //input(9999, "Backtest Stop Year",minval=1980)
testStopMonth   = 12 // input(12, "Backtest Stop Month",minval=1,maxval=12)
testStopDay     = 31 //input(31, "Backtest Stop Day",minval=1,maxval=31)
testPeriodStop  = timestamp(testStopYear,testStopMonth,testStopDay,0,0)
testPeriod() => time >= testPeriodStart and time <= testPeriodStop ? true : false

if testPeriod() and long
    strategy.entry( "long", strategy.long )

if testPeriod() and short
    strategy.entry( "short", strategy.short )




---
More