Volume Flow v3
Volume Flow v3
Author:
张超
, Date: 2022-05-23 14:40:50
Tags:
EMA
DEMA
---
DepthHouse Volume Flow indicator is used to help determine trend direction strictly based on Negative and Positive volume data.
How to Read:
Moving Average crossovers are used to help determine a possible trend change or retracement.
The area cloud on the bottom is calculated by the difference of the moving averages. This could be used to help determine the trending volume strength.
Bright colored volume bars are large volume spikes calculated by the x factor in the options.
Other changes:
DepthHouse is going open source with numerous of its indicators. This is only one of many!
Volume is now displayed without being altered for calculations.
backtest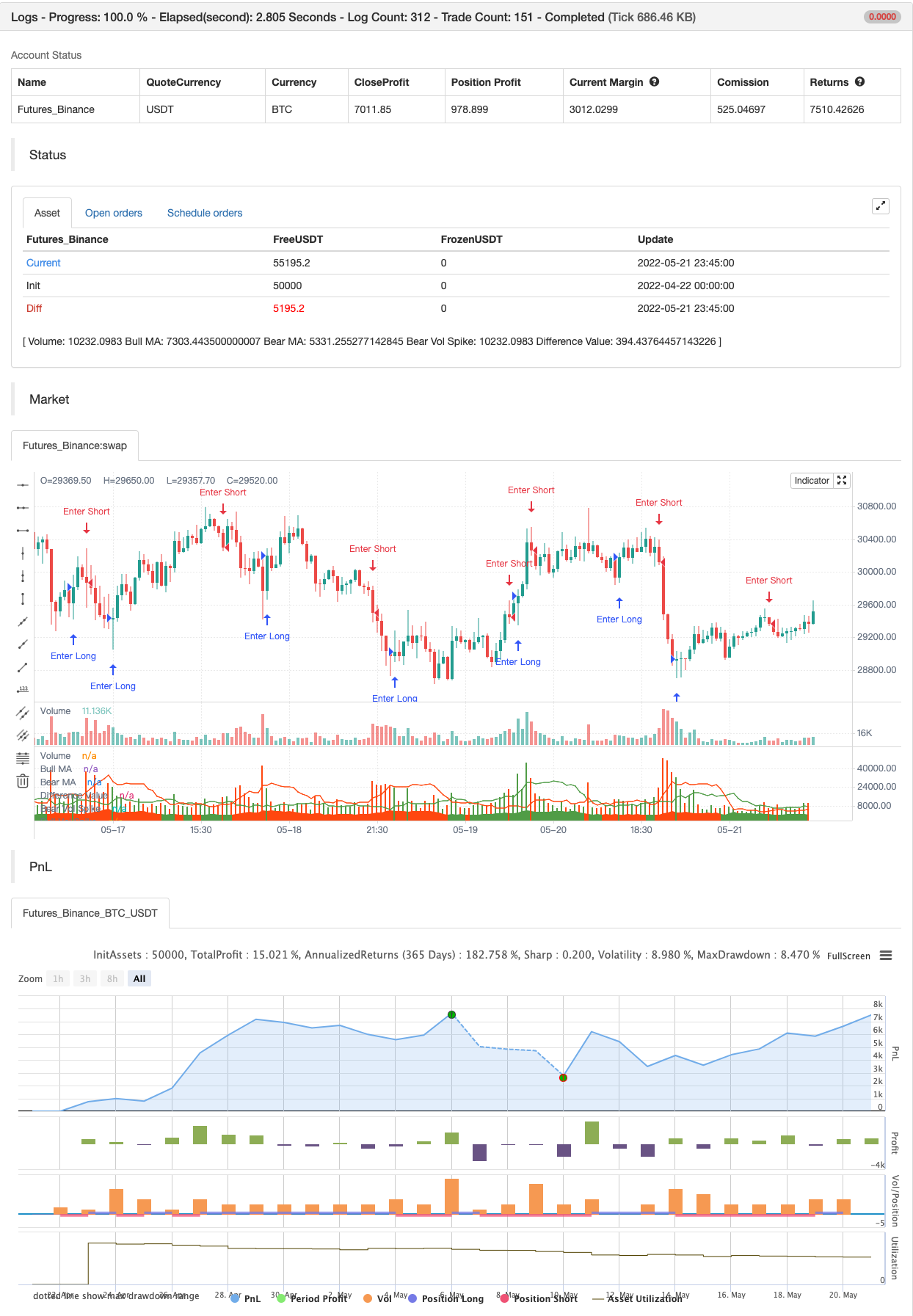 ---
/*backtest
start: 2022-04-22 00:00:00
end: 2022-05-21 23:59:00
period: 45m
basePeriod: 5m
exchanges: [{"eid":"Futures_Binance","currency":"BTC_USDT"}]
*/

//@version=4
//DepthHouse Trading Indicators
// by oh92
study("Volume Flow v3", shorttitle="Volume Flow [DepthHouse]")

maType =    input(title="Moving Average Type", options=["Simple", "Exponential", "Double Exponential"], defval="Simple")
length =    input(14, title="MA Length")
x      =    input(3.1, title="Factor For Breakout Candle")

//////////////////////////
// oh92 favorite colors //
//////////////////////////
red   = #FF510D      //#ff848a // #FA8072 // #323433 // #ff848a
green = #5AA650      // #8cffe5 // #6DC066 // #80aebd // #8cffe5

// Basic Volume Calcs //
vol  =  volume
bull =  close>open?vol:0 
bear =  open>close?vol:0

// Double EMA Function //
dema(src, len) => (2 * ema(src, len) - ema(ema(src, len), len))

// BEAR Moving Average Calculation
bullma = maType == "Exponential" ?        ema(bull, length) :
         maType == "Double Exponential" ? dema(bull, length) :
         sma(bull, length)

// BEAR Moving Average Calculation //
bearma = maType == "Exponential" ?        ema(bear, length) :
         maType == "Double Exponential" ? dema(bear, length) :
         sma(bear, length)

// ma dif //
vf_dif = bullma-bearma
vf_absolute = vf_dif > 0 ? vf_dif : vf_dif * (-1)

// Volume Spikes //
gsig=crossover(bull, bullma*x)?vol:na
rsig=crossover(bear, bearma*x)?vol:na

// Color Calcs //
vdClr = vf_dif > 0 ? green : red
vClr=close>open?green:red

// Plots //
plot(vol, color=vClr, style=plot.style_columns, transp=80, title="Volume")
plot(bullma*2, color=green, linewidth=1, transp=0, title="Bull MA")
plot(bearma*2, color=red, linewidth=1, transp=0, title="Bear MA")

plot(gsig, style=plot.style_columns, transp=50, color=green, title="Bull Vol Spike")
plot(rsig, style=plot.style_columns, transp=50, color=red, title="Bear Vol Spike")

plot(vf_absolute/2.5, style=plot.style_area, color=vdClr, title="Difference Value")

if gsig
    strategy.entry("Enter Long", strategy.long)
else if rsig
    strategy.entry("Enter Short", strategy.short)

---
Related
---
More